Superwinch 4wd SX10SR SX12SR
Superwinch SX10 & SX12
*Special introduction price, available*
SX10 10000lb (4536kg) SX12 12000lb (5443kg) synthetic rope & wireless control
SX10 & SX12 synthetic rope IP68 rated & engineered tough by Superwinch.
Powerful, reliable vehicle recovery for extreme conditions.
The Superwinch SX10 4wd winch with synthetic rope, strengthened steel drum and heavy duty supports has been extensively tested by Superwinch all the way to stall situations and under extreme conditions
It has many features including waterproof to IP68, built in receiver wireless control plus plug in forward and reverse control with recharging light., genuine synthetic rope and with automatic load holding brake.
More features and specs on data sheets below.
Check on line for genuine customer reviews and videos from around the world.
Link: Superwinch SX10SR 10,000 LB. 12V Winch - Install & Review (trailtacoma.com)
Link: Superwinch SX Series Winch Review - 10,000k & 12,000k Synthetic and Steel Cable Winches - YouTube
Link for SX Superwinch gearbox and free spool reposition rotation below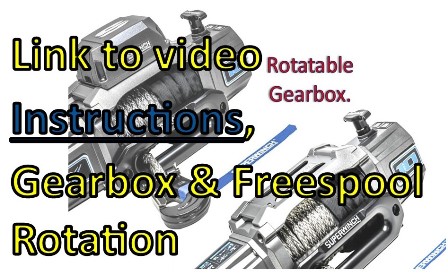 Related Downloads